Confession: I have been blogging since February of 2008 (almost 2 years) and I still haven't formally introduced myself!
It is high time that I do this whole "about me" thing! It is very difficult to put 27 years of me, myself, and I into one little page on the blogosphere, but I can at least skim the highlights. I find that when I visit other blogs, I always start with the about me section before starting the first post, just to get a feel for the author. Because our pasts (ie. where we are from, our paths in life, our experiences, etc.) help make us who we are, this information sheds a lot of light on our life perspectives.
I am Alaina. Yes, the title of the blog is a play on my name. Miscellaneous was the only word in school that ever turned my head when thinking I heard my name called. The title describes my blog perfectly - a little bit of everything!
I was born in
Hendersonville
, North Carolina. We moved to
Aiken
, South Carolina just in time for me to start kindergarten and lived there until my Junior year of high school. At that time, we moved to
Rutherfordton
, North Carolina, where my parents still reside.
After graduating from high school in 2000, I went off to college at the
University of North Carolina at Greensboro
. Matt and I met through mutual friends during our sophomore year there. We didn't like each other at all! I thought he was a jock (he was a baseball player and was totally full of himself), and he thought I was a snob (I am an observer, a woman of few words, I think before I speak, don't waste my words, got the senior superlative in high school for being "shyest", you get the idea!). Matt eventually transferred to
George Mason University
, and I never heard from him again... until the Spring of 2003, when we began to catch up online (on this old fangled computer program, you may remember it, AIM Instant Messenger) and we both came to the realization that neither of us was really how we had stereotyped the other in the beginning. Then we began a long distance (6+ hours) relationship and eventually fell in love. We like to say that friendship came first!
Get ready for the whirlwind... Matt proposed in the Winter of 2005. He graduated from George Mason University in the Spring of 2005 with a Bachelor of Arts in Liberal Studies. I then graduated from UNC Greensboro in the Summer of 2005 with a Bachelor of Science in
Interior Architecture
. We moved to Northern Virginia, planned a big wedding, and were married in North Carolina in Spring of 2006.
Just before our wedding, we adopted Skye.
We purchased our first house in the Fall of 2007.
We adopted Mason in the Fall of 2008.
...and that brings us to the present. We both work hard and are dedicated to our jobs. We are easily entertained by our crazy dogs. We watch a lot of tv, but can never agree on what to watch. We are always planning our next "amateur" home improvement projects. We both love our weekends and free time; what little there seems to be of it. We are content with our lives now, but are both ready for the next phase in our life together!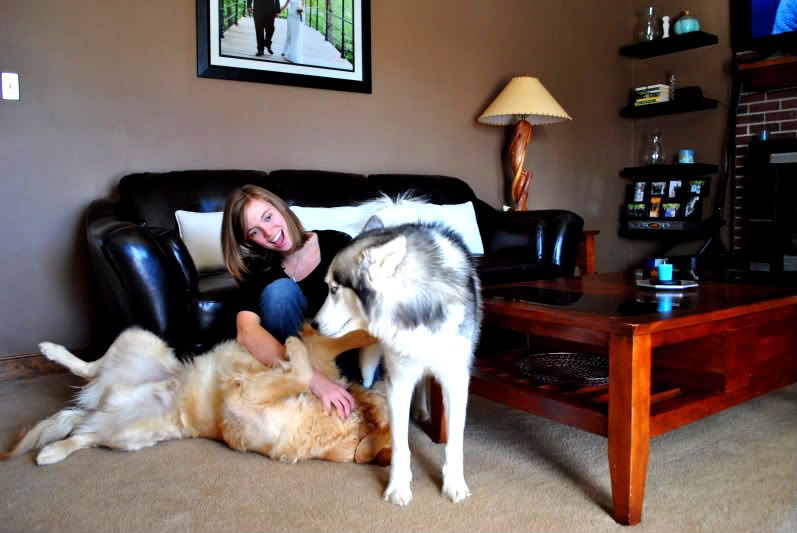 And if you still don't feel like you know any more about me, my apologies. You can always
e-mail me
and ask - I will be happy to answer (most) questions!