I have been a little lax on posting and I apologize for that. While I haven't been posting, I have been making lists and generating ideas. I started a running list of my favorite things and figured I would share them in case anyone out there is remotely interested. Here are a few of my recent favorite things!
Cheerwine + Sun Drop
Yummy soda's that up until recently, I couldn't even find here in Virginia and had to get when we went down to North Carolina. Now you can get Cheerwine at select locations. They pretty much speak for themselves, but they are so good. I can't have Cheerwine right now, but I savored the Sun Drop. If you ever see this, pick one up!
Banana Cheesecake
We recently went to our favorite lake restaurant, Clearwater Grill. It is a longer drive than most restaurants, but it is a scenic drive through the country and the food is worth the extra drive. I really like their spinach and artichoke dip, but their cheesecakes are to die for. The banana cheesecake drizzled with caramel is sooo smooth and delicious. I could eat a slice every day!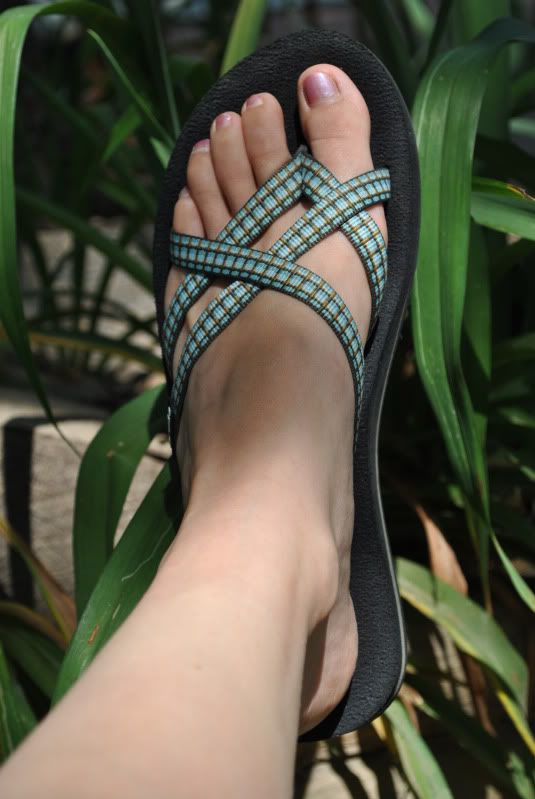 Teva Flip Flops
I'm not a big fan of all Teva's, but I love these flip flops. They are super comfortable and cute. I have had the pair in the top photo for about a year, and recently picked the blue ones out on our beach vacation. Love these things!
Fried Spinach
at Firebird's Grill
This dish is amazing. It sounds weird, and honestly, I thought the same myself before it came out with my equally amazing salmon. It is not greasy or soggy, but crisp and full of flavor. You can still taste the nutrients in it. Very tasty!
and, I'm on a food roll here...
Strawberry Custard from
Rita's
Smooth, creamy, great strawberry flavor. Nothing beats this custard. Matt loves their wild cherry italian ice. It is perfection!
And since I have said goodbye to alcohol due to my "condition", this is my new stand in. It is fruity, bubbly, and refreshing - my perfect drink for summer!
So tell me, what are some of your recent favorites?