We woke up early Friday morning with a beautiful morning and perfect traveling weather. Not too hot, not too cold, sunny, windows down kind of weather. We got an early start so we could get as much time as possible in at the beach!
The Garmin got us everywhere we needed to go! My favorite feature is the arrival time estimator. It was extremely accurate and updated itself as we made quick stops.
The Chesapeake Bay Bridge Tunnel off of I-64 near Chesapeake, VA. This tunnel goes way under water and is quite a few miles long. It is a cool experience!
Getting there! This is the street view of Jockey's Ridge State Park. A trip in the park didn't fit into our time schedule this trip, but it is on my list for the future. I have photographic memories of walking the huge dunes with my dad around the age of 4 or 5. Very neat!
Matt proved me wrong when I insisted that check in was at 3 pm and they weren't going to make an exception for us! We checked in after lunch around 1 pm. The service at our hotel was exceptional. Above is the view from our room!
We were dying to get to the beach, so we dropped our luggage as quickly as possible and headed out!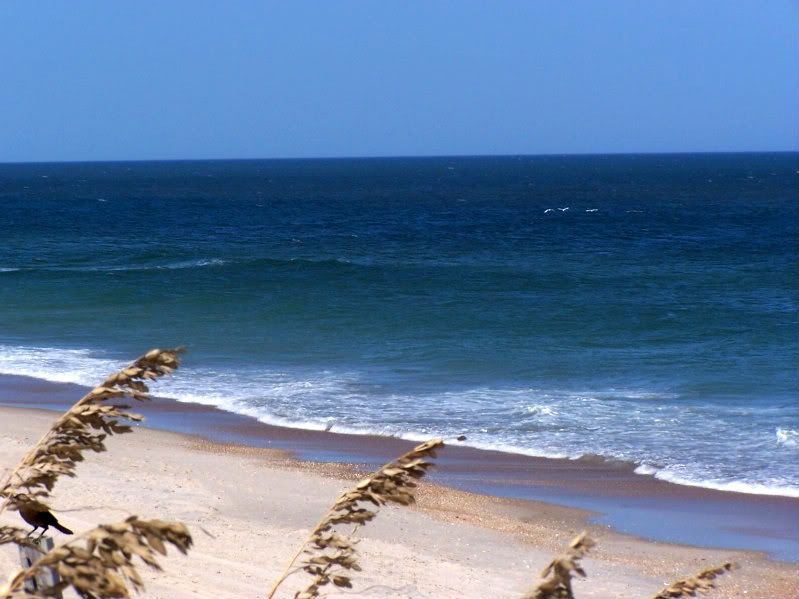 First view of the sandy beach!
A very excited Matt who was not thrilled I asked him to pause to take a picture!
...and was less thrilled when I asked him to take a picture of me! Hey, I can't always be behind the camera!
Georgeous! I couldn't wait to get my camera lens on the beach!
footprints in the sand
The waves were pretty small the first day... it was very calm!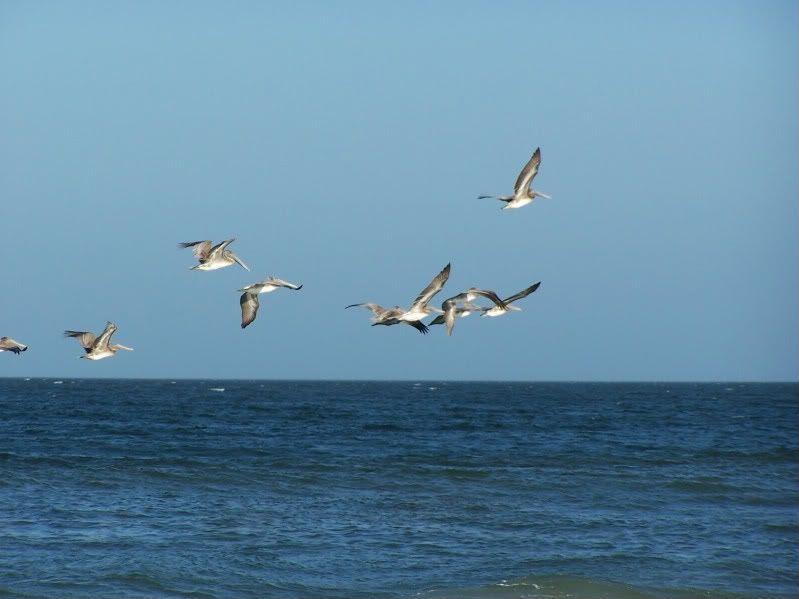 The pelicans flew in masses like seagulls. I have never seen that before!
The beginning of the sunset from our parking space at dinner.
Our dinner restaurant,
Basnights Lone Cedar Cafe
, is to the left in the above photo. We asked the front desk clerk at the hotel, a local, for his recommendation for a good restaurant for both steak and seafood. We enjoyed a great shrimp appetizer over spinach, goat cheese, and walnuts. Matt enjoyed his prime rib. I didn't enjoy my seared scallops... the biggest disappointment of my trip. They were flavorless and not appetizing at all. I used butter and salt and pepper to make them better, but it wasn't a big improvement. Oh well, better luck next time!
As we left dinner, I snapped a few photos of the end of the sunset. It was beautiful, but hard to capture with the camera. We took a night time walk on the beach and enjoyed our balcony for a while before turning in!