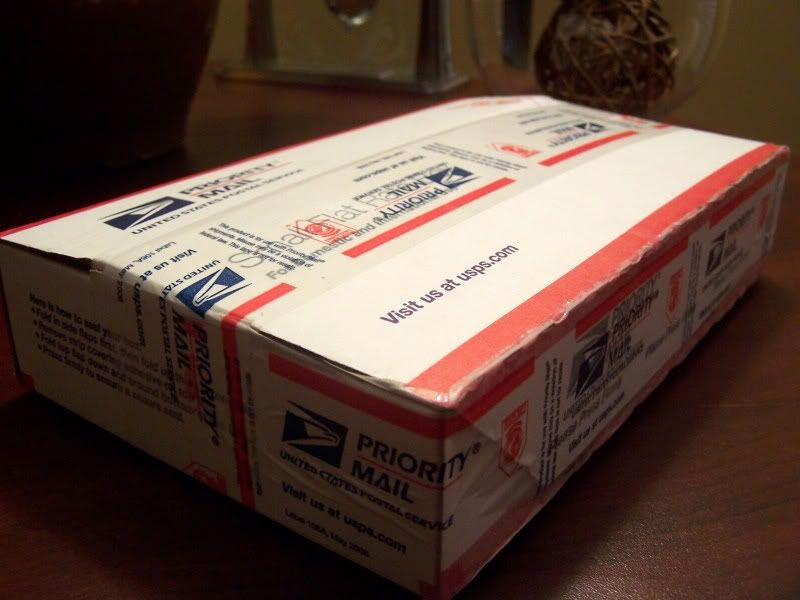 Halloween started with this small package from home. I remembered this great dress I wore for Halloween back in high school, and asked my mom to ship it to me. Amazingly, after 9+ years living away from home, I still remembered exactly where it was in my old bedroom. This is a great article of my momma's clothing from way back in the 70's. I'm guessing she wore it in college, but if not, she can correct me on that! I told her to stuff it in a small box because there was very little chance of this fabric wrinkling! I wasn't expecting the box to be quite so small, haha! This is how it came out...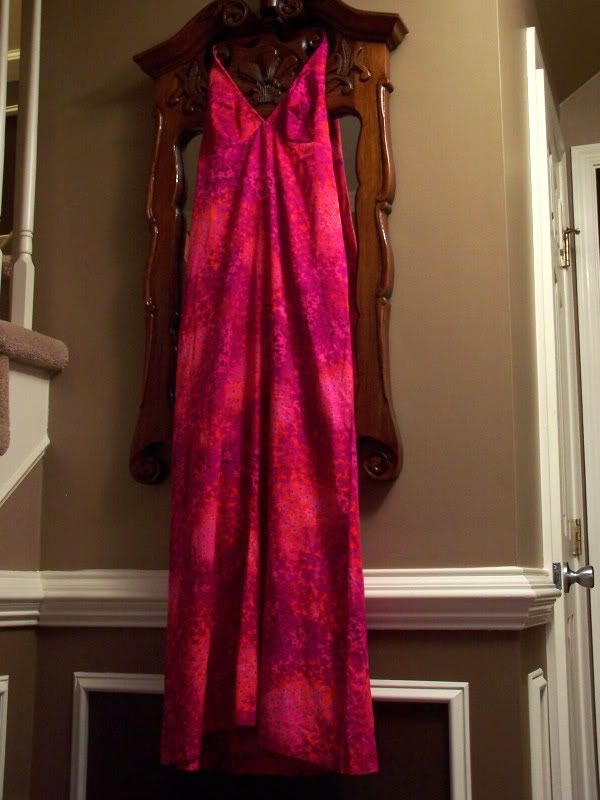 wrinkle free and ready to wear! Sorry, no photos of me in the dress, but it fit great and was a huge hit.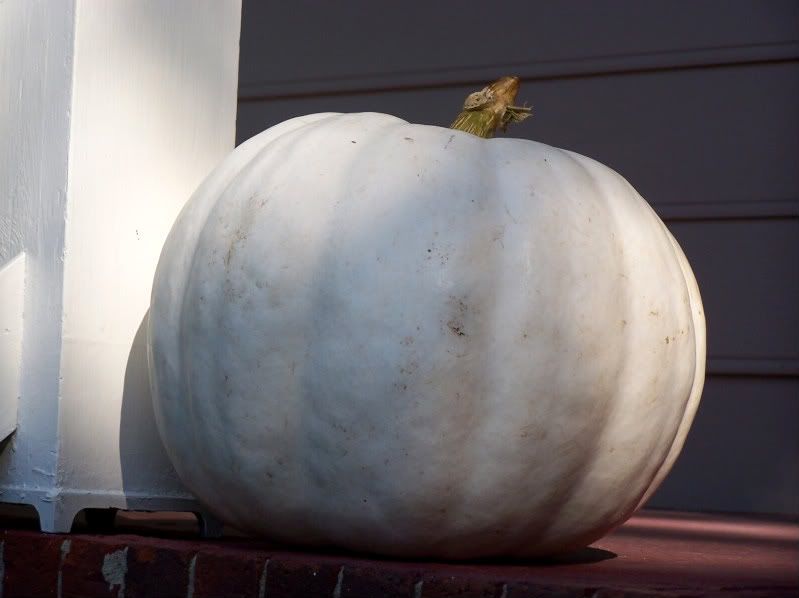 Last weekend, I transformed these great white pumpkins into these graphic pumpkins...
After cutting all of these circles, I was wishing I owned an apple corer. Who doesn't own an apple corer? It is now on my list!
I actually traced circles and squares on the pumpkins and cut them with my little tools. Luckily, I had my templates from design school, so it was easier to keep them consistent.
The pumpkins actually kept pretty well being carved for a week. I was a little weary about them!
The weather was dreary the entire weekend, so we only spent a little time outside under the covered porch. Matt modeled his new jacket!
Can you believe my husband wants to cut this tree down!?! I have put my foot down. I love it and think it frames our house nicely. When we were in college, long before marriage and home buying, I always told him I would only live in a house that had mature trees in the yard. I loved walking around my college neighborhood in Greensboro, NC admiring the beautiful older homes, established sidewalks and trees and shrubs.
This was after our afternoon movie adventure to see Michael Jackson's This Is It. It was an edited compilation of footage caputring the creative process of preparing his final concert tour. I will admit that I was never a fan of Michael Jackson, and was never specifically exposed to his music growing up. Most of the songs I am familiar with are the ones often heard in movies or on commercials. I don't recall us really having MTV in South Carolina until I was in high school. It was neat to see how he was changing the songs and performances to bring them more up to date and give them a fresh approach while still keeping with the original songs that fans love so much. It was great to see and I do recommend it! My hair was getting a little shaggy so...
I went for a haircut on Sunday! Not much change.. just got rid of the longer layers coming out in the back and the "bangs" are a little shorter than the last time. Overall I like the shape and so far, it has been very easy to manage with little styling needed!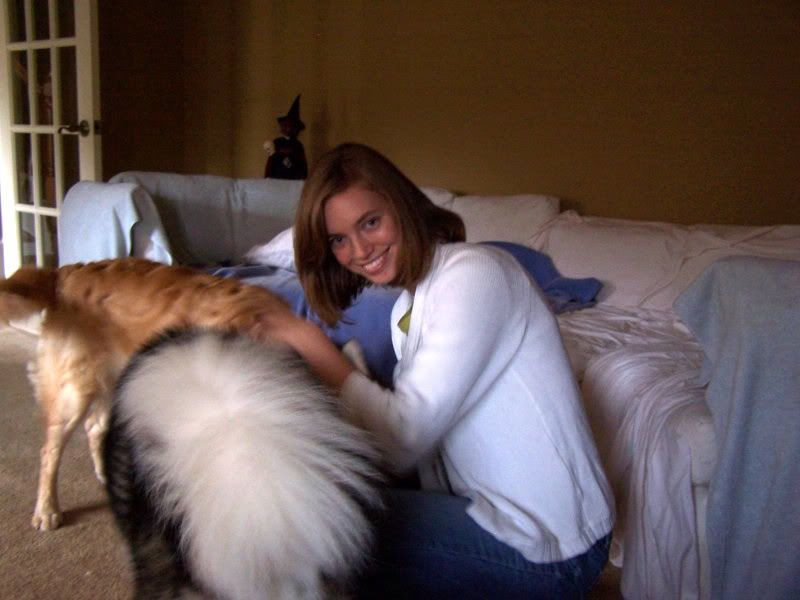 We spent lots of time playing indoors with the boys!
I cooked one of our favorties on Sunday, Beef Stew. We changed it up a bit and used beef tenderloin rather than the usual stew beef, scallions in place of yellow onion, and fingerling potatoes in place of white potatoes. I also used my secret ingredient of lipton french onion soup mix for just the right spices. It was very hearty and warm... perfect for the rainy cloudy weekend we had!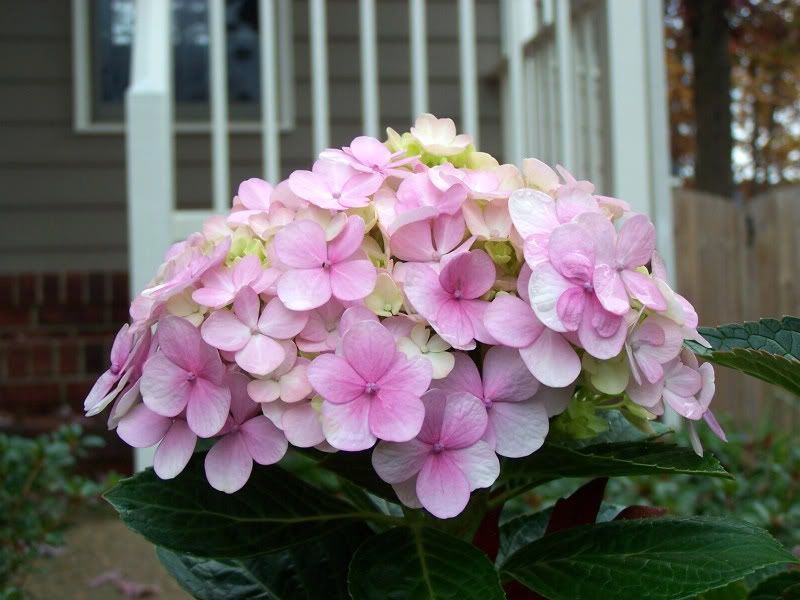 And a little beauty from the ugly weekend! I'm enjoying it now because we have a frost warning for this week!
Here's to seeing the sunshine, even it if is only in the morning. Gotta love the time change!