I will be honest with you - I was terrified when my water broke early and I realized this was it and we were on our way to the hospital and I would be delivering a baby within the next 24 hours no matter what - 4 weeks early. Scared, anxious, nervous - not the words I expected use to describe this life changing event. Everything leading up to his delivery felt like an out of body experience... like I was dreaming. I had no idea what to expect. I was just hoping and praying for a healthy, fully formed baby boy. Thankfully, that is what we got! Yes, it changed our plans and there was a lot of scrambling to accomplish in a few days what I thought I had my last month of pregnancy to do. There are still a lot of things to do to get ready for him - the nursery has no decor at all and is in no way ready, but it is functional for now. As scary and hectic as our experience was, we are thrilled that he is here now. His happiness and easy going personality has more than made up for the eventfulness of his coming into the world.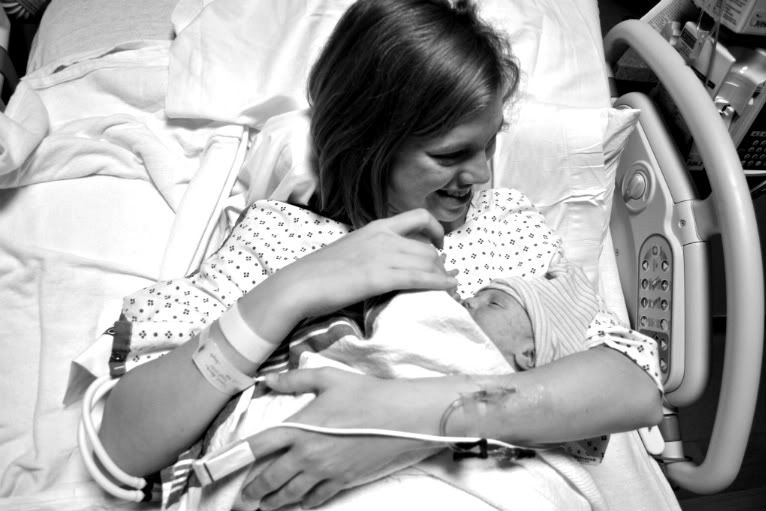 In my post-delivery fog on this Thanksgiving Day, I am thankful for...
my happy and healthy baby boy - words cannot describe the love for your own child
my super helpful husband who has amazed me since his transformation to "daddy" in the delivery room
my mom's week long visit and assistance as we settle in at home and learn as we go
my mother-in-law who has kept us fed and who is supplying Thanksgiving dinner giving my mom and I the year off
my dad for doing the unimaginable and planning time off next month giving us a visit to look forward to
my father-in-law for helping Matt get the house and yard ready for Will's homecoming
my local family, friends, and neighbors who have come to visit Will, brought gifts, and have offered their help and assistance if I find the need - their support has been unexpected and very much appreciated
my long distance family, friends, coworkers, and fellow bloggers for all of the wonderful comments that brightened my days - I treasure them all!
and for my boys who are adjusting so well to the new baby and still keep us laughing
Most of all I am thankful for the miracle of life!
My hope is that you all have many people in your lives to be thankful for this Thanksgiving and throughout the year. May you all have a wonderful holiday!