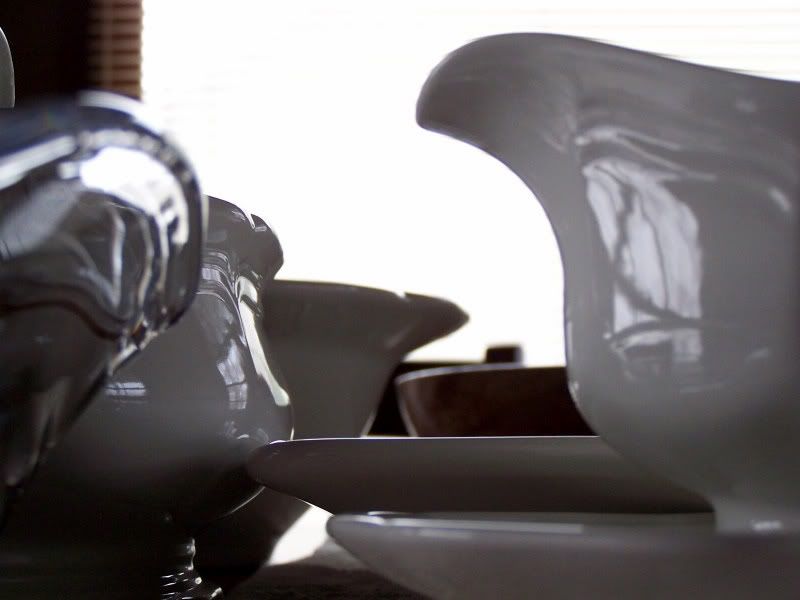 As I type this, everyone else is sleeping. We have a big meal planned for today. I am finalizing my to do list to make sure we get everything on the table around the same time. I am a little OCD... I have written and rewritten my schedule a few times and have drawn a diagram of how the island will be laid out with the dishes. Hey, it never hurts to be prepared! My mom is here to make the turkey, we made the stuffing last night so that we can get it in the oven quickly this morning. The secret to our turkey is to wrap it in bacon and cover it with a thin piece of cotton and there is no basting needed. Once it's in the oven it is good to go for a few hours! All the serving dishes are clean and ready to fill with yummy goodness.
The Menu:
appetizer
crab/shrimp ball with assorted crackers (mother-in-law is bringing)
main course
turkey + stuffing (my grandmothers stuffing recipe)
gravy (made at the end with the drippings from the bottom of the roasting pan)
dressing (Pepperidge Farm for Matt and his parents)
mashed red potatoes
sweet potato casserole (with chopped pecans and brown sugar topping, sweet potatoes are roasted before peeling them)
southern style green beans with bacon
sesame seed rolls
dessert
pumpkin cheesecake (mother-in-law is bringing)
pecan pie (mother-in-law is bringing)
This year, we are skipping the traditional salad and cranberry sauce - with only five people at the table, we will already have plenty!
I am now signing off to get started on my first item of business, waking my mom and Matt. Here goes!