Between my mother-in-law and my grandmother, we are well on our way to being the most prepared parents ever. Matt's mom has been shopping over the course of this pregnancy getting ready for her first grandchild, bringing things up every time she visits. My Grammie came up all the way from North Carolina this past weekend for a baby shopping marathon. We have so much stuff already, making a baby registry will be a little difficult.
Look at this closet!!! Obviously, the first thing on my list to get the nursery ready is to get a closet organizing system because this closet is so big and open for all of this wee little baby stuff. Some of the cute little clothes were purchased after our ultrasound yesterday.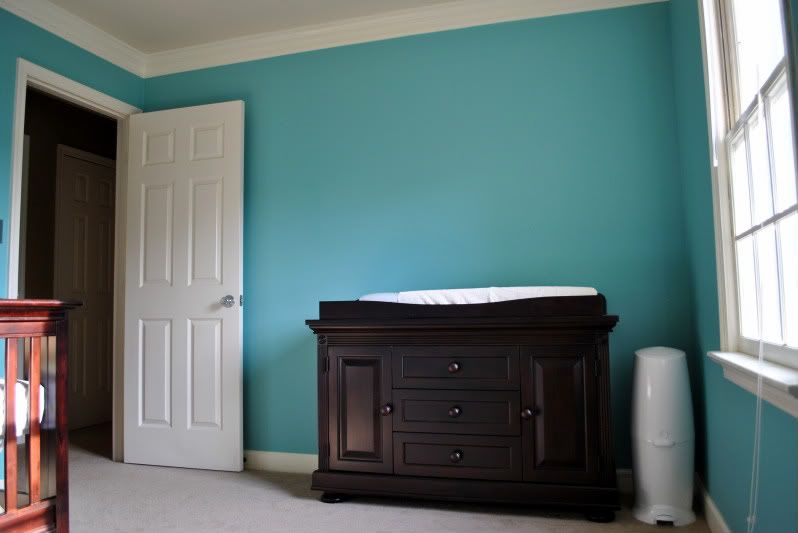 As far as furniture, we have the dresser and the crib. The only other thing that will fit in this room is the rocker. I have my eye on
this one
or
this one
. The rocker will go in front of the window to the right in the photo above.
You may also notice we have painted the walls. I chose this color months ago with a little pressure from Matt who wanted to get the painting over with. I figured this color could go either way. For a girl, I would have paired a dark pink/fuchsia. For a boy, I will be pairing with red and possibly yellow.
We still have a long way to go, but we are off to an amazing start. We are so thankful to our families for what they have done so far. This is going to be one lucky little boy!