where I live / a photo of the town you live in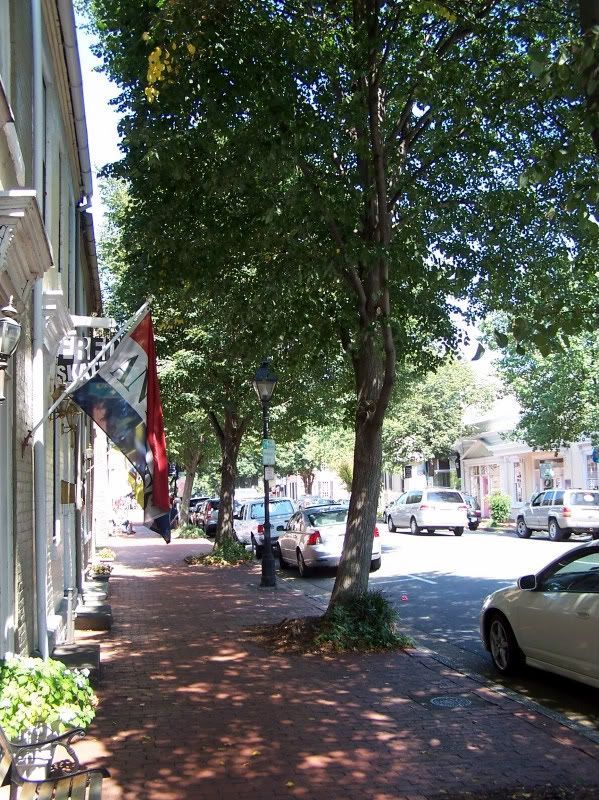 We currently live in a medium sized town in Northern Virginia. I'm not getting much more specific than that. In lieu of telling you where I currently live, I will tell you about the places that I have lived before here.
I was born in
Hendersonville, NC
in 1982. A great little mountain town known for having all four distinct seasons, the
North Carolina Apple Festiva
l and the numerous apple vendors in the area, and it's close proximity to the
Blue Ridge Parkway
and other outdoor mountain activities. This is my dad's hometown and my grandmother still lives there and is very active with the apple festival and the
Mineral & Lapidary Museum
that my late grandfather created.
My parents moved us to
Aiken, SC
in 1987. It is a charming southern town known for
Thoroughbred horse racing
, being an
All-America City
, historic charm and homes still remaining from the
Winter Colony
, gorgeous tree canopied streets, and its close proximity to the
Savannah River Site
.
My parents then moved us to
Rutherfordton, NC
in 1998. Just to give you an idea, as you enter Rutherford county from any direction, there is a welcome sign that reads "Small Town Friendly". That pretty much says it all. Well, the small town part, at least. Rutherford county is most widely known for the vacation destinations of
Chimney Rock Park
and
Lake Lure
. My parents still live there and I try to make it back to visit at least once a year!
I moved to
Greensboro, NC
in 2000 where I attended the
University of North Carolina at Greensboro
, and lived there until I graduated in 2005. Greensboro is great city that has everything you need without feeling too large. It has a great downtown area and nightlife, enough shopping that you don't need to go anywhere else, and has a great variety of local restaurants in addition to the many chain restaurants. I really enjoyed the five years I spent in this city, and it feels like it is something of my own because it was the first place I lived without my parents - independent, but not yet grown up.
I moved from Greensboro to our current city in 2005. While we like where we live, we don't feel it is our forever city. We have no plans for the next number of years, but I would eventually like to live somewhere more centrally located to both of our families. We shall see!
[Man, this post sounds like a tourism brochure. On that note, if anyone would like recommendations on visiting any of these locations, I would be happy to make suggestions! Haha!]